Reviews:
Mike Dolbear (2004
) |
Rhythm Magazine (2002)
|
Music Mart (2001)
|
Geoff Nicholls (2000)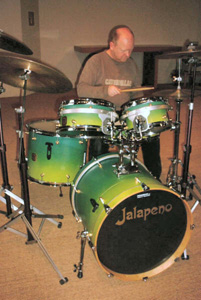 Jalapeno Punkster 5-Piece Pack-Away Kit
Mike Dolbear Review November 2004
Next up in our series of custom British drum manufacturers comes this delightfully cheeky number by Jalapeno Drums, hand made and played by UK drummer Dave Nuttall. This kit is based on the Russian Stacking Doll idea, portability being the name of the game.
Smaller kit's have had measured success in recent years. The likes of Yamaha (Hipgig), Sonor, (Jungle Kit) Drum Workshop (Short Stack) all offer 'portable' kits, although the latter two don't nestle away inside of each other, but just the fact that they are small drums and you can fit several drums in just one case is what it's all about in this game. Those of you who are too tired of traipsing round the club circuit with double-tiered racks and hardware, this is aimed squarely at you…
Onto the drums then. "Lime Green to Jade Green Fade" is the order of the day as far as the colour scheme is concerned. Not my favourite colour finish on a set of drums but being at a trade show Dave put out this kit to be quite eye-catching. You can however have whatever colour you want. The basic shell construction for these kits is a little different from the norm. First off, this particular review kit benefits from something I've never see before. That's a tracking device placed into the wood of the plies so if (God forbid) your drum ever gets nicked, it's totally traceable. A nice touch.
The Finnish Birch isn't abnormal, neither is the choice of 6mm 12ply shells for the toms. What is a little different however is the fact that the grain of these drums goes vertically rather than horizontally. This is the same with some Sonor kits and DW's new VLT drums.
The vertical grain means that the sound is purer and faster. Professor Charles W. Taylor of the Royal Institute proved that sound travels about 4 times faster down grain than across it, and also that it maintains the integrity of the wave formation. Hence the toms sounding big for their sizes and the snare being so responsive.
The other advantage of building drums this way is that the ply is flexible enough to bend into the moulds without either heated rollers or microwaving, and does not need to be held in place by internal compression systems. These "cooking and compressing" techniques used in mass production remove most bottom-end / lower-middle tones from mass produced drums. These drums give a full toned natural sound.
The lugs on these kits are all hand-tapped custom made brass ones, with the snare having tube lugs to stretch the depth of the shell. The badges are a little tacky to be honest. Kits at a fifth of this price have much better badges, and although I appreciate in this case you're not buying for the 'name' or 'badge', it'd still be nice to glamour it up a bit. It looks a little cheap and does nothing for the kit's looks.
The toms I reviewed were all kitted out with Gauger RIMS mounting system. To have these added on as an option costs a little more, but if you decide to plump for them, they are typically sturdy and look the business. The heads are all by Aquarian, with black Aquarian 'Clear' on tom bottoms and 'Response II' heads on tops. Initially I thought that this was a bit of an odd choice. Considering the shells are all relatively small anyway, why would you want to dampen their resonance any more? Still, we'll find out when we play…
The toms were nice, full, rounded drums. The double ply head fattened out the sound and made the warmth of the shell shine through. There was a nice punchy impact with the 10"x6" and the 12"x6" which was replaced by a rumbling thud on the 16"x13" floor tom. The bass drum sounded great (despite the shell being in two halves for other drums to stack inside), and the two halves fitted together with ease.
The toms in general all sounded full-bodied and surprisingly 'big' considering their size. With a double ply head on, it was harder to test the range of the tuning but considering their deft adjustment with this choice, I've no doubt jazzier tunings with a single ply ambassador would be a breeze.
The bass drum at 20"x18" is punchy and nice to lay into. It's volume level has no problem keeping up with the toms and lack of tone is not a problem here. An asset to the set. Having said that, the bass is one of two drums that splits in half to stack the other drums into. The two halves are attached by means of big black elastic-band type bungees called "elasticised polymer fasteners". They look fairly funky, but I initially thought the kit might benefit from metal fasteners like the one on Hipgigs. I learned that on earlier models Metal catches were used, but are prone to ''buzzing'' over time. These strong polymer catches (3 being capable of holding 150KG together for a kit that weighs 38kg) eliminate unwanted buzz while providing positive force, which ensures that the two halves of each drum stay perfectly in contact with each other, thus allowing full sound transferal.
The snare drum is finished in the same colour and is sold in with the kit package. Let me tell you, this snare is so versatile and pleasant to play, you could put it on almost any kit, and it'd easily outshine the rest of the drums. The shell is 9mm 18ply of pure Finnish Birch and the bearing edges are 45° in and 45° out , resulting in a crisp, clean, nice woody tone. It's punchy, full bodied, awesome snare response from anywhere on the head, a brilliant snare mechanism in the Nickle Piston throw, a great tuning range and a sheer delight to play. The head was an Aquarian Satin Textured Coated snare head and did wonders to conjure out some hidden depths that might've fooled you into thinking the drum is double it's shallow 4". It's also furnished with Die Cast hoops meaning the tone is focused, rimshots are full and rimclicks are meaty and penetrative. There was only one tuning lug that proved difficult to turn, (petty really but when you consider the price of the whole kit you'll know why I brought this up), but that was as much fault as I could find. Actually, the snare is the best thing about this kit. I'd be happy playing this snare in any application.
Now, on to the money. The kit in the pictures here goes for a staggering £2400. That is a lot of money. I was in the South's biggest DW dealer today and for that price, they were offering a 5-piece finish ply DW kit with hardware and Zildjian's. I'm not for one second suggesting that would be a better buy, but when you consider the competition, these drums are far from priced 'competitively'. Anyone with this sort of money to spend on drums is unlikely not to make this same comparison. You can of course go for lesser options, like no RIMS and no tracking devices, but even if you took £500 off the £2400, I'd still want a guard dog offering 24 hour protection.
These are well-crafted drums, hand made in Britain. They sound great, are built well and have some unique add-ons. I just fear for the money they cost few people will even consider this when they can buy a top line kit from a more established company. That'd be a crying shame as these drums deserve more attention than they'll get.
Words: Mary Pusey
[ Back to top ↑ ]
---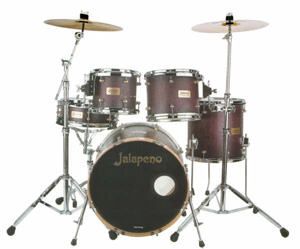 Jalapeno Classic 5-Piece Kit
Hand-made drums from the exotic location of Lancaster, Jalapeno are a bespoke British percussive product with a trick or two up their sleeve. Nigel Lord gives them a go - or two. (Rhythm Magazine, March 2002)
More than most musicians, drummers have benefited enormously from the advent of mass-produced instruments. Whatever the negative connotations associated with the production line, there's no doubting that the factories of the Far East have provided the means by which countless players have been able to begin their careers playing affordable kits of astonishingly high quality. Prior to this, drum manufacture was a painstaking labour-intensive process that was inevitably reflected in the cost of kits - and the fact that far fewer young players got the chance to sit behind them.
But what if you're at that stage in your career where you want your drums to have been painstakingly produced using highly labour-intensive manufacturing techniques? Well, fortunately, there is still room in the industry for such manufacturers to operate (just), and it's particularly gratifying to see that some are based in the United Kingdom.
Lancastrian drum maker David Nuttall is a case in point. His Jalapeno range of instruments has been quietly picking up devotees for the past few years. I don't know how many kits a year he produces, but I don't imagine he's giving the Pearls and Yamahas of this world many sleepless nights. But this, of course, reflects the amount of time and effort he puts into every drum he produces: where Jalapeno drums are concerned, it seems 'hand made' really does mean just that.
My last encounter with the Jalapeno marque was a set of three snares we looked at back in the October 1999 issue. If memory serves, the drums were accompanied by a lengthy description of the technology behind the design, which included the use of 66 percent vertical grain in the 18-ply hand-laminated birch shells, internal oil finishing (to harden the wood) and a technique for applying the tuning lugs to the shells under pressure. It's an approach to drum design that David Nuttall is still keen to promote - as the detailed descriptions on his website bear out.
To briefly recap on the lug design, it works on the principle of resonance being transferred to the shell both directly - through the head and the bearing edge - and indirectly, through the hoops, tuning rods and lugs. The latter are fastened to the shell using special bolts, deliberately avoiding any kind of gasket material such as plastic or rubber.
Classic Theory
At the time of my last review, I pointed out that the theory behind the design seemed to run directly counter to the approach of many drum manufacturers who do their utmost to insulate the shells from the resonance-damping effects of bolt-on tuning lugs and other hardware. But having thought about it since, I suppose it's not unreasonable that both extremes could be proved to be valid. Arguably, it's the middle line - where lugs are fixed to the shells but not sufficiently firmly - that causes problems. Heck, I don't know - physics was never my strongest subject. All I have to build this theory on is the evidence of my own ears - but we'll return to that later.
The kit for review is from the Jalapeno Classic range, based on similar design concepts to those original drums. The main difference being the thinner 12-ply 6mm shells for the toms and bass drum, I'd also say that the tuning lugs are slightly smaller in diameter than previously. I'm working purely from memory here, but the current design seems to occupy a smaller footprint on the shell. Also new is a washer placed behind each lug and just visible to the eye. Quite why these are needed, I'm not entirely sure. They're obviously not acting like plastic or rubber gaskets - as I've said, the design deliberately excludes such materials - but unless they have something to do with the construction process, by which the lugs are mounted on the shell under high pressure, I wouldn't like to speculate on their function. All I do know is that being made from steel, they detract slightly from the look of the drums, which - as I observed last time - have an attractive, vaguely retro appearance.
The kit comprises 20"x18" bass drum, 10"x9" and 12"x10" toms, 14"x14" floor tom and 14"x5" snare. It's supplied as a shell pack, so the choice of hardware is yours. And, as with most custom drum kit manufacturers it should be possible to accommodate most individual requirements without too much difficulty. For example, you can opt for birch hoops to be supplied in place of the 2.3mm triple-flanged hoops, which are fitted as standard on the drums. Alternatively, you could decide to go for die-cast hoops, which are available for some of the drum sizes.
Needless to say, the choice of finish is also open to you. The kit you are looking at is finished in 'Purple Burst' with a multi-layered satin wax coating, which looks quite dull (in the literal sense of the word), but very pleasing to the eye. However you can opt for a high-gloss lacquered finish if you're in need of something a little more durable.
Lugs 'N' Heads
The purpose of the vertical plies and the bolt-on tuning lugs is to increase the playing response and dynamic range of the drums, respectively. This certainly ties in well with the use of birch shells, which are characteristically up front is terms of their response. On the Jalapeno Classic drums, the design package adds up to a kit with an exceptionally powerful sound, great top-end definition, and - considering the shell sizes - enormous depth.
The Aquarian heads supplied with the kit certainly seem well placed - the response is as good as on any kit I can remember playing, with little or no damping required. That said, this isn't quite what I was expecting from the kit. There's something about the concept of hand-made instruments that seems to suggest great warmth and character — not raw, gutsy power and a broad frequency range, which is what these Jalapeno drums offer.
With so much contradictory evidence about what's important in shell design (check out the Arbiter Flats review elsewhere in this issue), I think we'd have to conclude that David Nuttall's approach is as credible as anyone's — the set of drums I have in front of me is evidence of that. If you need further convincing, why not check out his website or arrange for a chat over the phone. Now, that's not something you can do with the chap in charge of a production line, is it?
CONCLUSION
By the looks of these drums, one might have expected them to be reserved and full of character. Instead, they're extremely gutsy, powerful instruments with a huge volume range and a deep – very deep –bottom end. Clearly, this gives them great potential as a live kit; though I'm sure studio players will also welcome their lightning fast response. But the main reason anyone is going to be interested in Jalapeno drums is the individualism you can get from a hand-made kit – each set will produce its own unique sound.
[ Back to top ↑ ]
---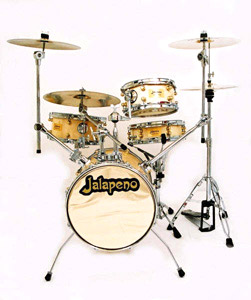 Lancashire Hotpot!
A tasty selection of home-made drums from Jalapeno works wonders for Dave Holmes' appetite. (Music Mart, April 2001)
Proprietor of Jalapeno Drums, David Nuttall, and TV's Naked Chef, Jamie Oliver, apparently have one or two things in common - they're very capable of rustling up first class grub and both play drums. While Oliver is still passionate about his cooking but could perhaps do with a little less exposure - especially with those annoying Sainsbury's ads - Nuttall has swapped culinary skills for drum manufacture deep in the heart of Lancashire.
All the necessary ingredients for this five-piece shell pack come neatly presented and protected in fibre cases. As each drum is exposed to the elements, I'm treated with a pleasant waft of freshly worked wood and an aroma reminiscent of white spirit. These examples of Jalapeno handmade drums comprise 8x8" and 10x8" suspended toms, a floor standing 14x14" companion, 18x16" bass drum, 13x5" snare and the obligatory tom mounting hardware.
Nice Finnish: Jalapeno drum shells are apparently constructed from the finest quality Finnish birch, with both the inner and outer bearing edges cut to a 45° angle. This gives around 5mm contact from the head upon the outermost portion, and according to Nuttall, allows more sound transfer from skin to skin through the shell.
Nuttall is passionate about every drum he makes and explained the science behind the sound his creations achieve: "The direction of the grain in two thirds of each shell, including the innermost and outermost layers, goes down the length of the shell as opposed to around it, which is more commonly found in mass-produced drums. This ensures a faster, more cutting response, as sound travels four times faster along grain than across it." Each shell is stained peacock blue, with a bright, almost fluorescent blue/green appearance beneath the satin wax finish. This slightly textured exterior coating evokes a somewhat organic feel to the whole kit, while permitting a view of the pleasant birch grain and allowing the wood to breathe. This finish is one of the many options on offer and apparently is requested by around half of Jalapeno's customers.
Every lug is hand turned from solid brass and attached to the shell under high pressure. This compresses the wood which, according to Nuttall, "increases the rate of resonance transfer back into the shell." Another factor effecting the sound are the gorgeous vintage hoops - birch ply examples that are extremely well made and add an earthy, rustic retro ambience to each shell.
Bass Drum: This comparatively small example is lifted up to the optimum height for the bass drum pedal by metal bracketing attached to the batter head rim. Both spurs are extended fully to prevent the drum wandering in a forward direction, while keeping it firmly anchored in position with the toms in situ. A Remo Powerstroke III complete with a falam pad is employed as the batter head and, due to the reasonably small diameter of the drum, no dampening is required. A 6" sound port is cut into the front head, which also bears the Jalapeno logo.
Toms: Each of the hanging toms is RIMS mounted utilising a method similar to that employed by Premier. The mounts straddle two tuning lugs and are fitted with individual rubber grommets to take the strain around the tension rods. Aquarian heads are employed on all the toms, with response 2's fitted for batter duties and the slightly thinner Hi-Frequency model on the underside of each. They're governed by 4 tuning lugs on the 8" example and 6 for the 10". Each of the 14x14" tom's three knurled legs offers a firm footing, ensuring this drum is rock-steady and more than substantial enough to keep it upright, no matter how hard the playing. Due to the width of the natural birch hoops, the lower rims feature apertures through which each leg passes en route to fit correctly into the appropriate clamp.
Hardware: The quality level and quantity of hardware available with Jalapeno kits is down to the individual customer preferences. However, with this review kit Nuttall has supplied L-shaped Pearl mounts for the suspended toms and they slot neatly into the bass drum tom hole aperture.
Snare Drum: This 13x5" model is constructed from 18 layers of birch plies, the end result having a thickness of 9mm. The Vintage hoops give the illusion that this model is bigger than it is in reality. A texture-coated Aquarian Response 2 batter head is tuned extremely taught, giving a clear view of the collar formed over the bearing edge. On the underside there's a clear Remo Weatherking snare head, while quality snare manufactured by PureSound scores some bonus points. Tuning key style bolts facilitate a quick changeover of the snare at one end, while the other accommodates a smooth and very functional side action snare mechanism. There are eight lugs per head, joined together by brass tubes and conveying an overall feeling of robustness.
Performance: I'm not a great fan of small bass drums and feel a little apprehensive about whether this model is really up to the job in hand. However, I quickly discover one or two advantages over a model with more portly dimensions - the response upon the beater almost turbo charges the bass drum pedal. Grasping the opportunity presented by a colleague, I go out front and witness a well focused thud and undeniably long projection. The whole kit has a clear and well-focused tone, tending to be sweet when played softly, but striking it with vigour induces a snappy birch bark that's both warm and full. This is very evident with the 13" snare drum, which posses tremendous cut along with a lightning response that simply begs you to play.
Conclusion: This kit has a really tight and punchy sound that makes it a pleasure to hear and great fun to employ. The ease with which each drum comes up to the required pitch is a testament to the accuracy of the bearing edge machining and quality fittings. Nuttall's next meal ticket is assured, courtesy of these hand-made drums, while allowing the individual purchaser the choice of totally customisable options is another recipe for success.
[ Back to top ↑ ]
---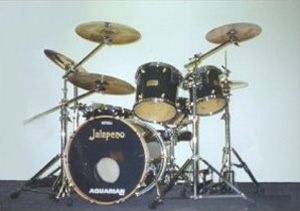 Geoff Nicholls, Wednesday 6 December 2000.
Geoff Nicholls picks out a new, hand-made range of drum kits that's hot tamales in the drum world.
Jalapeno drums are hand-made by Lancaster drummer David Nuttall, who's devoted a huge number of his waking hours to drum kit construction.
David uses first-grade Finnish birch to hand-laminate his shells: 12-ply 6mm for toms and bass drums and 18-ply 9mm for snare drums. The heavier snare shell gives the required higher pitch and shorter sustain.
Two thirds of the plies in each shell – including the inner and outer plies – are arranged so the grain is vertical, i.e. along the length of the shell. Most commercial drums have horizontal inner and outer plies because that way it's easier to cut the bearing edge. But it's long been known that vertical grain considerably speeds sound projection.
David applies, "multiple layers of finishing oil internally to harden the wood cell structure" then leaves each shell to cure for two weeks before polishing and finishing. The review kit was in Forest Green Burst gloss lacquer. This is a rich, dark green which contrasts beautifully with the brass lugs and the natural blonde bass drum hoops. You can choose from 32 colours in gloss lacquer or satin wax, plus sunbursts and plastic wraps at added cost (see website for colour chart). Since every process is done by hand the lacquer is applied by brush rather than spray. The result is less glassily perfect than that supplied by the big manufacturers, but looks great nonetheless.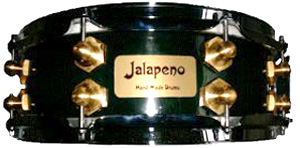 The lugs are specially made from solid brass, polished and lacquered. Like vintage lugs they don't have swivel nut inserts so you have to be careful lining up the rims. I didn't have any problems though – the drums are obviously made to a high degree of accuracy. The lugs are attached to the shells by hefty socket button bolts which further increase the transfer of resonance from head to shell.
The result is the drums are very lively. They have good depth and attack, characteristic of birch. The imposing 22x18in bass drum sounded like thunder. And the 13x5 snare drum was a beauty. With its thick shell and massive brass lugs it's surprisingly heavy and fitted with Aquarian heads and brass Pure-Sound snare wires the sound really sparkled. As crisp and responsive, right across the head, as the most expensive drums I've tried.
Closing Thought: Making drums is a tough occupation, as many have discovered. You need a design which is sufficiently different and attractive to divert a steady supply of rebels from the mass market. As the big manufacturers produce ever-better drums at ever-keener prices this is some task. Jalapeno drums have a look all their own and several unique design features - check out the website for more detail on these. The components are heavy duty and the sound is loud and punchy. Few of us are willing to stand out from the crowd but if you're one then I recommend you give Jalapeno a close inspection.
This review is kindly reproduced by permission of Geoff Nicholls.
[ Back to top ↑ ]