Products:
General Construction
| |
Compact / Pack-Away Kits
|
Frame Drums
|
Snare Drum
s |
Psalm Drum
Drum Kits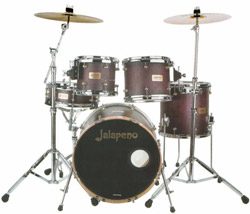 Jalapeno Drums pride themselves in making what are arguably the fullest-toned drums available on the planet. Using only the finest quality birch, vertical grain construction, solid brass fittings, 45˚ in / 45˚ out bearing edges, and sound-enhancing wood oils, these are drums that will create a stir wherever you play them.
Jalapeno toms are resonant, responsive, full-toned and loud, and feature 'Permamount' permanently mounted RIMS systems, increasing resonance while allowing "on the stand" batter head changes.
Bass drums are the crowning jewel from the Jalapeno range; giving big, fat, cutting and deep punchy bass beats which require no dampening, yet totally free from residual boominess.
There are two ranges of kits available from Jalapeno - 'Classic' and 'Elite' - differing in their construction techniques, but visually having the same appearance, allowing the customer to mix and match to create the sounds they want while maintaining one image.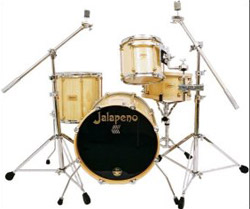 Classic Series kits feature 6mm 12-ply shells on all of their toms and bass drums, and 9mm 18-ply shells on their snare drums. The result is a range of versatile drums that are full-toned, resonant and responsive, and suitable for all playing situations. Bass drums come un-drilled as standard, but can have an appropriate mounting block attached at additional cost.

Elite Series drums have a shell construction which gives them a rich deep-toned sound combined with a lighter weight. These drums have a 3mm 6-ply shell construction, with two-tiered support hoops, giving the strength of a 12-ply 6mm shell where the brass fittings are attached, and 9mm at each end, giving increased sound wave velocity. Open, responsive, resonant, and deep-toned, these drums give a big fat sound perfect for Rock, Blues, Big Band Orchestral and Jazz playing situations. Bass drums are only available un-drilled.
| | | | |
| --- | --- | --- | --- |
| Series | Diameters Available | Depths Available | Hoop Options |
| Classic Series Toms | 8, 10, 12, 13, 14, 15, 16" | 4" to Box Sizes | Triple Flanged Steel, Vintage Birch |
| Classic Series Floor Toms | 14, 15, 16, 18" | 12" to Box Sizes | Triple Flanged Steel, Vintage Birch |
| Classic Series Bass Drums | 16, 18, 20, 22, 24, 26" | 10" to 20" | Birch Hoops |
| Elite Series Toms | 8,10, 12, 13, 14, 15, 16" | 6" to Box Sizes | Triple Flanged Steel, Vintage Birch |
| Elite Series Floor Toms | 14, 15, 16, 18" | 12" to Box Sizes | Triple Flanged Steel, Vintage Birch |
| Elite Series Bass Drums | 16, 18, 20, 22, 24, & 26" | 10" to 20" | Birch Hoops |