Products:
General Construction
|
Drum Kits
|
Compact / Pack-Away Kits
| |
Snare Drums
|
Psalm Drum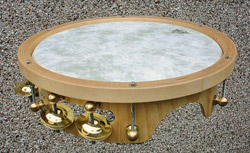 Frame Drums
Taking on-board the initial concepts proposed by Jalapeno endorsee Terl Bryant, Jalapeno Drums now offer a range of frame drums, which can be used both as hand percussion or kit mounted drums.
Toforans are a mixture of the Irish Bodhran, the Moroccan Ryk and the tambourine, and aredesigned for the more adventurous and experienced frame drum player. Based on a 4" deep frame shell, Toforans feature 6-lug Vintage Birch wooden hoops, are tuneable with a drum key, and use a stick-playable Remo FibreSkin 3 head. The imitation calf skin head requires no wetting, and remains unaffected by climatic changes. Toforans have 4 sets of brass chimes, a cross-bar for Bodhran-style playing, and side cut-aways to make them ambidextrous. They also feature a tom bracket to make them kit mountable. Available in sizes 14" and 16".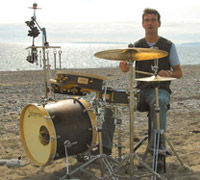 Frame Drums
These are the same shell design as the Toforans, but do not have the jingles or the cut-aways. These drums are designed to by used as part of a drum kit and allow a drummer to include pure Celtic drum sounds in their arsenal of sounds. Available in sizes 10", 12", 14" & 16".